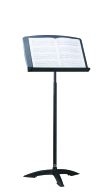 Click to Enlarge
For June only, Black Cat Music is offering a massive 15% discount on their best selling Classic 50 music stands in a special Summer promotion. Quantity discount breaks allow purchase prices as low as £38.56 when purchased in quantities of 50 or more. Schools and colleges looking to equip with new music stands designed for robust and regular handling can take advantage of this great offer throughout the month.
The ever popular Classic 50 Music Stand is tough enough to handle the hardships of regular classroom use thanks to a formulation of advanced polymers offering inherent tensile strength that will not bend or dent like metal stands. Its elegant design makes it quiet and rattle-free during performances. And the scratch resistant desk surface also incorporates a unique recess for keeping pencils in place. The patented one-hand height adjustment of the music desk is simplicity itself, requiring no screw or locking collar adjustments. To learn more watch the Classic 50 put through its paces at YouTube.com:
https://www.youtube.com/watch?v=ivRM-h6FW28
Full details of the June offer can be found on the Black Cat Music web site.
- Ends -