Now there is no excuse for ignoring the Conductor!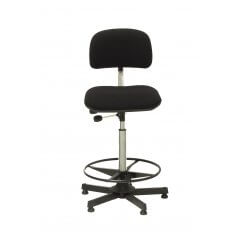 Black Cat Music is delighted to introduce the Maestro Conductor's Chair. This elevated chair affords the conductor better visibility for the orchestra, and is fully adjustable in height and inclination.
With its adjustable seat and backrest, the Maestro Conductor's Chair is exceptionally comfortable. The footrest helps to give the Conductor extra support.
Height can be adjusted from 64 to 90cm, giving ultimate flexibility.
The five-foot base ensures that the chair is extremely stable.
With its elevated height, combined with superb adjustability and stability, the Maestro Conductor's Chair will ensure the Conductor is visible to every orchestra-member throughout rehearsals and performances.