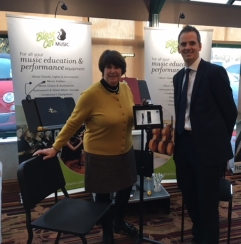 Click to Enlarge
Black Cat Music were pleased to exhibit at last week's Music Mark Annual Conference in Kenilworth. The theme of this year's 2-day conference was Diversity, Equality and Inclusivity, and was the perfect opportunity for attendees to take part in a wide range of talks, workshops and visit exhibitor stalls.
On show at the Black Cat stand were the ever-popular music and performance products ranging from Wenger music stands and music posture seating to staging, conductor's equipment, choir and band folders. Black Cat Music and Acoustics' Sales Executives, Brigitte Downs and Justin Bird, were in position and on hand to give their expert advice.
Reporting on the conference, Justin Bird Sales Executive said: "As always, it was lovely to see a number familiar faces, but also to meet so many other professionals within music education. The Free Conductors Baton Offer was as popular as ever and I hope that the Music Mark Annual Conference was enjoyed by everyone who attended."