The Auditorio de Tenerife is delighted with its new Wenger Diva acoustic shell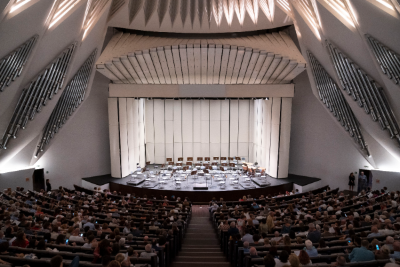 In September 2019 Black Cat Music supplied a Wenger Diva full-stage acoustic shell to the Auditorio de Tenerife. The shell, installed with the help of Wenger's specialist installation team, has absolutely delighted the Auditorio, making a significant improvement both in terms of acoustics and in terms of operational processes.
Jorge Cabrera, technical production head of Auditorio de Tenerife, states that "the new Wenger Diva Acoustic Shell means for our venue one important improvement in terms of an acoustic performance, amazing esthetic and optimal stage operational working processes."
He also praises that the shell is "highly flexible, with its 8 possible specific configurations, from a piano soloist or a chamber orchestra to full orchestras & full choral formations". "We have reduced 30% the setting up time, and obtained maximun optimization of storaging areas, and operational spaces", he states.
Alice Dagger, Managing Director of Black Cat Music & Acoustics, reports: "We are thrilled with the success of this project, and so pleased that the shell has made a significant improvement to the acoustics and really sped up the operational processes for the Auditorio de Tenerife."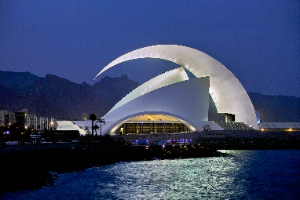 Black Cat Music is proud to be Master Distributor for Wenger in Europe and Russia. Wenger is unchallenged as the world's largest manufacturer of fully-guaranteed staging and music performance equipment in the world.
Diva gives a stunning backdrop that is audibly magnificent and its mobile architecture gives the appearance of a beautiful, permanent wall in a smart system that's extremely mobile and compact for tight storage. From its elegant design to its remarkable impact on acoustics, Diva takes sound artistry to a new level of excellence. It is, without doubt, the most advanced full-stage acoustical shell of its kind.
Diva's composite-panel construction provides superior acoustical performance and Diva's ability to produce custom aesthetics at a lower cost is a Wenger exclusive. Engineered and built to the highest possible standard, the all-aluminium frame provides exclusive advantages, including longer-lasting rigidity and easy operation. Diva also gives you unique advantages of the Air Transporter, which allows one person to move Diva towers on a cushion of air.
Modular design for ensembles to full orchestras
Ideal for medium and large theatres, particularly those requiring high-end aesthetic coordination
Rich full-stage acoustics for improved sound projection
Safe, fast and easy set-up with a small crew and exclusive Air Transporter
Built-in levelling pads
Tower and ceiling panel framework constructed of aluminium
Overhead panels raise and lower with theatre's rigging and can be flown in fly tower when not in use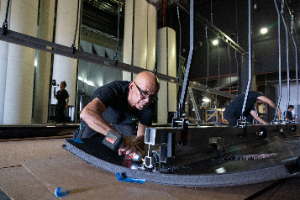 Photograph copyrights:
©Auditorio de Tenerife/Miguel Barreto For the building images: ©Auditorio de Tenerife/Efrain Pinto or ©Auditorio de Tenerife/JR Oller