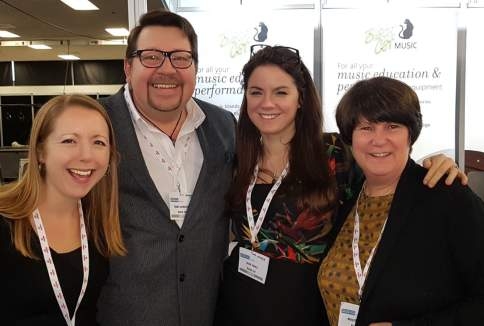 Click to Enlarge
Last week saw the Music and Drama Education Expo take place at London Olympia. The exhibition was the ideal opportunity for industry professionals from around the world to network, attend workshops and view the vast array of exhibitors displaying their products and services. Black Cat Music were delighted to be one of those exhibitors involved.
The Black Cat Music stand was a bustling hive of activity over the 2 days. Managing Director Alice Dagger, Senior Sales Executive Brigitte Downs, Sales Executives Justin Bird and Chloe Prince, and Head of Industry Relations (Harlequin Floors) Mark Rasmussen, were on hand to offer professional advice on a range of products. These included the ever-popular music and performance products ranging from Wenger music stands and music posture seating, to staging, conductor's equipment, choir and band folders.
Reporting on the Expo, Brigitte Downs said "The Music & Drama Education Expo seems to be more and more popular each year. We have been extremely busy over the 2 days, but it was lovely to see so many familiar faces from previous years, as well as meeting so many new ones. We were also treated to some outstanding live performances".