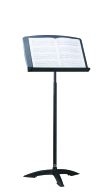 Click to Enlarge
It's not too late to take advantage of our July Special Offer, Black Cat Music is offering an amazing 15% discount on their best-selling Classic 50 Music Stand by Wenger.
The ever popular Classic 50 Music Stand is a wobble-free, elegant and lightweight stand with no fiddly knobs or screws. It is tough enough to handle the hardships of regular classroom use thanks to a formulation of advanced polymers, offering inherent tensile strength that will not bend or dent like metal stands. The scratch resistant desk surface also incorporates a unique recess for keeping pencils in place. The patented one-hand height adjustment of the music desk is simplicity itself, requiring no screw or locking collar adjustments.
Single stand prices start from £47.21 each or take advantage of quantity discount breaks allowing purchase prices from as low as £40.13 each when purchased in quantities of 100 or more.
Full details of this monthly offer, as well as future offers, can be found at https://www.blackcatmusic.co.uk/